Ravenna Capital of the Mosaic
Discover the art of mosaic in Ravenna in all its facets, from ancient to modern, from Basilicas to museums, from craft workshops to street art.
New paths to discover the mosaic
The Collection of Contemporary Mosaics forms a vital part of the artistic heritage of the city. It traces the evolution of the mosaics technique in Ravenna and fosters the engagement of local and international artists. The pivotal moment for the renewal of mosaic art was the Exhibition of Modern Mosaics in 1959, the artworks from which now constitute the core and basis of the present collection.
Guided tour to discover the monuments that make Classe an essential destination. Discover the Basilica of Sant'Apollinare in Classe, defined as one of the greatest examples of an early Christian basilica and recognized by Unesco as a World Heritage Site. Despite the spoliation suffered over the centuries, the church still preserves the beauty of the original structure and it is admired for the splendid polychrome mosaics of its apsidal basin and the ancient marble sarcophagi of the archbishops located along the side aisles. Furthermore, our itineraries will lead you to discover the Museum Classis Ravenna, the last born among the city's monuments and which has become the cultural point of reference for anyone who wants to fully understand the history of Ravenna. A compelling story that features one of the most important cities in the Mediterranean, three times capital. The story develops inside the museum using multimedia, plastic and multi-projection equipment used as a support to the visit and to illustrate the various themes.
Guided tour in English language to a Mosaic workshop, where you will have a glance at the works of the master mosaicist. For more than 1500 years, Ravenna has been passing down the extraordinary artistic tradition linked to the mosaic that made it, together with its 8 UNESCO monuments, famous all over the world. Every Saturday a guided tour starts at 11.30 am and will make you discover this amazing art, visiting one of the workshops of the city centre, where the traditional techniques meet contemporary projects and ideas.
Travel proposals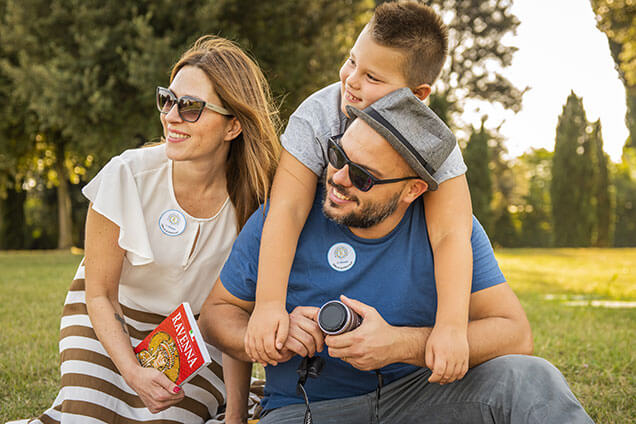 Stay two days with your family to discover Ravenna. We offer you a guided tour of 2 hours in the street of Ravenna for a first look of the history of the city and a mosaic workshop for families in which everyone will engage in the ancient art of mosaic. You will keep the object created during this workshop, to decorate your home as a souvenir of your stay in Ravenna.